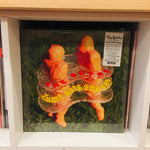 Well haven't we had a brilliant week!?! It was lovely opening up again and a massive "Cheers!" to everyone for sanitising hands and respecting social distancing. Thank you for all the in shop, click and collect and mail order purchases. The support has been incredible and gives us hope in these tough times.
I know we say this every week, but there are some truly wonderful albums out this week.
The Beths followed up the success of their first album with Jump Rope Gazers. An indie pop gem of happy songs with sad lyrics we predict this one will outshine Future Me Hates Me. The first press is on tangerine colour vinyl.
Laura Marling cut out all the label bother and just released Songs For Our Daughter while we were in the deep depths of lockdown. A beautiful album, it was finally released widely on physical formats this week and has flown out. We have a couple of copies of the limited edition vinyl LP in stock left.
Mr. Ben & The Bens make their Bella Union debut with Life Drawing. An absolute joy of a record, we sold out over the weekend, but will be re-stocking next week, so give us a shout if you want a copy!
In the ambient space we have Healing Is A Miracle from Julianna Barwick, debuting on Ninja Tune. Featuring collaborations with Sigur Rós' Jónsi, we have limited edition copies with signed prints.
Margo Price follows up All American Made by going BIG with That's How Rumours Get Started. As you would expect with a Margo Price record she goes deep, doesn't varnish a damn thing and makes the toughest s*&t sound beautiful. A blinder of a record, we have copies of the Indies exclusive edition that comes with a bonus 7".
The Lightning Orchestra - Source and Deliver is described by the band as 'psychedelic booty shake' which we are seriously considering adding as a genre to the racks. Pulling in all the good stuff from Hendrix, Fela Kuti, Talking Heads, Sun Ra and Isaac Hayes it is an absolute blast pressed on neon yellow vinyl. Enjoy!
There's also new music from The Streets, DMA's, NZCA Lines and one of those awesome 7" from The Lovely Eggs to keep you going.
We also have some lovely things to look forward to.
Not news, but wanted to flag the posthumous Jason Molina release, Eight Gates again. While reading an article about this record (in Gold Flake Paint, highly recommended and well worth the subscription) I realised I hadn't actually listened to any of the songs released so far. So I did. And was blindsided. I could have put them in the playlist but felt they needed to be heard on their own. Out 7th August on Secretly Canadian.
My Morning Jacket have already released Waterfall II digitally and they have gone to town on the vinyl editions, due 11th September. There's an Indies only clear LP and deluxe zoetrope edition.
International Anthem return with Miguel Atwood-Ferguson and Carlos Niño and Chicago Waves. A live genre bending album from a label that is all about integrity and boundary pushing. Out 25th September on vinyl, it is The Guardian's Contemporary Album of the Month.
Ever since Ley Lines we have loved Emma-Jean Thackray's work and are looking forward to Um Yang, a direct to disc recording out 31st July. Known as a trumpeter who is part of the South London jazz scene,  she is an incredible composer, producer and multi-instrumentalist who is very much doing her own, brilliant, thing. 
 And finally, the pride of Bedfordshire, and let's face it, the UK, Alfie Templeman has a new EP Happiness In Liquid form out next Friday 17th July. He is quite rightly getting all the plaudits and buzz.
Remember, if you are after a new release, you can pre-order on the website or just send us a message to reserve you a copy until pay day!
And here's a little selection of what we have been enjoying...
 Laters!
Warren & Nerys