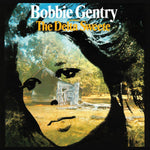 Right, there is only one record we can start by talking about, Fontaines D.C. have landed a brilliant second album A Hero's Death. No idea how they did it so soon after Dogrel, but don't care. It is a triumph. Those of you have pre-ordered, these are either winging their way to you or waiting for you at the shop. We still have copies of the limited blue vinyl as well as the deluxe LP, so dig in. It's really great.
There are a couple of notable re-issues this week.
First up Bobbie Gentry's Delta Sweete gets a much needed re-issue. Overlooked and under appreciated at the time of its release (Sexism in the music industry? Surely not...) barely repressed and certainly not with the respect it deserves. Following Mercury Rev's incredible Bobbie Gentry's Delta Sweete Revisited, Universal have come good. This deluxe re-issue features the original album re-mixed and re-mastered along with a second LP of demos and alternate versions that have never been released on vinyl before. And for those who are fascinated by all things Bobbie Gentry I recommend this podcast.
The second re-issue is Paul McCartney's Flaming Pie. Re-issued for the first time since 1997, we have the 2LP half-speed re-master as well as a 3LP box set which also features demos and home recordings.  A lovely package for one of Mr McCartney's best loved solo records
 Some very exciting upcoming releases have been announced.
Angel Olsen is releasing Whole New Mess, an album of songs that her all conquering All Mirrors grew from, on 28th August on Jagjaguwar. We have a VERY limited number of the Indies Clear Smoke vinyl LP so please let us know asap if you would like a copy.
Laura Veirs is back with her 'my songs knew I was getting divorced before I did' album. We absolutely adored The Lookout so are very much looking forward to what My Echo has to offer. 
New/old Bernard Butler music alert! So it turns out that Bernard Butler and Catherine Anne Davies (aka The Anchoress) recorded an album together but it never got released. No, we don't know why either. Thankfully, Pete Paphides' Needle Mythology are rectifying this situation and is releasing In Memory Of My Feelings on 18th September. The vinyl edition comes with a bonus 7" featuring a cover of Madonna's Live To Tell. 
Osees have a new album out with a new spelling of Osees just to mess with our website code. But we forgive them because no Osees record is every anything less than vital and surprising. Protean Threat out on Castle Face 18th September.
Charli XCX just banged out an album during lockdown. It then got nominated for a Mercury. As you do. how i'm feeling now will be available on vinyl 18th September.
Katy J Pearson has been releasing excellent songs over the past year on Heavenly and her debut album has finally been announced. Return is pressed on red vinyl and is out 13th November. She's also booked to play Bedford Esquires in February. Of course we don't know what the future holds, but just the hope this gig is going to happen is making us smile.
Finally, Black Pumas fans, a gorgeous deluxe edition has been announced featuring studio outtakes and cover versions. It arrives October 9th. 
A quick update on Record Store Day August drop on Saturday 29th August. We will be able to open, but people will have to book their slot in the queue so that we can maintain social distancing. Booking will start at 6pm on Friday 28th via our website. Keep an eye on the website and the socials for more updates. Anything remaining will be sold online from 6pm on the Saturday. Any questions, give us a shout!
Warren & Nerys