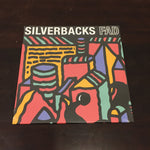 What a week - there were a LOT of boxes to get through, and it was lovely.
First off - new Dylan on vinyl. How great is that? Hearing great reviews from our Bob Dylan fans of Rough and Rowdy Ways, who are putting it up with his best work. Pressed on indie exclusive olive green vinyl
A discovery for us has been Fad from Silverbacks. Mixing post-punk, Television, The Fall and a bit of slacker rock make for a rather tasty debut. 
Shout out to our other favourite this week - Zara McFarlane's new record Songs Of An Unknown Tongue. Further digging in to the African rhythms that appeared on her last record, Arise, and bringing in electronica, Zara's voice remains the star of this fab record.
Lianne La Havas has released her third album and it is a beaut. JARV IS / Jarvis makes a welcome return (what took you so long?) with Beyond The Pale pressed on very pretty translucent orange vinyl. At the other end of the productivity spectrum our boy Alfie Templeman dropped another E.P of indie goodness, Happiness In Liquid Form. 
Three huge re-issues this week Joy Division - Closer, Tin Machine - Tin Machine II and Slowdive - Just For A Day. All on pretty clear / colour vinyl pressings.
Siti Muharam - Siti of Unguja finally landed on vinyl. It is an astonishing record and if investigating taarab music - with East African, Indian and Middle Eastern influences- intrigues you, we recommend having a listen. It's already starting to make the records of 2020 lists.
On the 7" front we had the recorded in lockdown 'See You Late Maybe Demos' from  Easy Life as well as sneak peeks from the Blue Note Re:imagined record featuring Poppy Ajudha, Jorja Smith, Ezra Collective and Skinny Pelembe. Seriously can't wait for full record to land 25th September. 
Huge announcements this week - finally Doves have announced their upcoming album. The Universal Want arrives 11th September and there's a lovely white vinyl indie edition as well as an all-singing all-dancing box set.
After her super successful EP's Nubya Garcia has announced her debut album Source, to be released by Concord on August 21st. Even more exciting is there is a very limited (1000 copies) Indies exclusive splatter vinyl edition that is rather good looking.
More PJ Harvey re-issues are on their way. As well as Dry (arriving next week) and Rid Of Me (August) we have To Bring You My Love as well as a Demos album coming September 11th.
Whitney are dropping an album of covers entitled Candid, with an Indies blue vinyl pressing available for those who are quick! Featuring tracks from John Denver, SWV, Brian Eno and David Byrne and an appearance from Waxahatchee,
Finally we are super pleased to tell you that from next month we'll be stocking Forever Living Originals label releases. The label is home to the ever so exciting and elusive Sault as well as up and coming soul artist Cleo Sol , both of whom have recorded some of the best music we have heard this year. These are up for pre-order on the website and will be in the shop early August.
And here's a smattering of what's been gracing the turntable/computer this week
Huge thanks to everyone who has been making social distancing work in the shop. Remember for those who don't fancy browsing you can order online for mail order or to pick up from the shop. We've adjusted out hours to 10-5 Tuesday - Saturday.
Finally, keep an eye out next week for news on our plans for the August RSD Drop.
Warren & Nerys