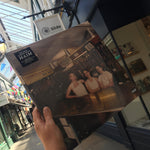 First of all, thank you so much for getting involved with Love Record Stores. We had a brilliant day and we hope you were all very happy with your purchases. To say thank you we've got a little something planned, so keep an eye on the socials for more info...
So we may not know what the weather has in store for us, but we can accurately forecast some excellent music heading our way.
The new record from Khurangbin, Mordechai, has arrived. More funk filled fabulousness - via Thailand, Iran, Spain and a few other places en route - from this trio. Available on limited edition pink vinyl, it's one we are adding to our collection. 
Haim's Women In Music Pt. III, is predicted to be the soundtrack to the summer, come rain or shine. Highly anticipated by more than a few of you, it is available on yellow 2LP, and full of sunshine vibes plus it's own dance routine.
We were big fans pf Nadine Shah's 2017 record Holiday Destination, so very pleased she is back with Kitchen Sink. We have the limited edition orange vinyl edition in stock.
Jessie Ware has delivered an album of dance floor bangers on What's Your Pleasure? Choose your lockdown dance floor (Nerys is a fan of the kitchen) and let loose.
Now we should have mentioned Various Artists - Help The Witch last week, but you know, we're rubbish. A concept album soundtrack to Tom Cox's book of short stories, it features Bedford's very own Jack Sharp on what is quite rightly being called THE folk horror album of 2020.  
If that isn't enough for you we've had some super exciting announcements of upcoming releases 
Bright Eyes return after nine years with Down In The Weeds, Where The World Once was, out on Dead Oceans. Eagerly anticipated, this release comes in Blue/Red and Red/Orange Editions, both with an animated etched D-side.
We know you guys love Japanese Jazz and Funk so we think you are going to love the compilation Wamono A-Z Vol. 1 - Japanes Jazz Funk 1968 - 1980. Compiled by DJ Yoshizawa Dynamite and Chintam, (Chintam quite literally wrote the book on Wamono and said book is now impossible to get hold of) and using fully licensed Nippon Columbia and Victor Japan masters (a first outside of Japan) this release is serious quality.
Another re-issue from The Twilight Sad, this time the Andrew Weatherall produced No-One Can Ever Know. This is available on burgundy 2LP out 4th September.
There is major buzz around Siti of Unjuga by Siti Muharam from On The Corner Records. It's been a Bandcamp album of the day, Vinyl Factory have named it one of 20 records to look out for in 2020 and it has been a Guardian Global album of the month. Already out digitally, the vinyl edition arrives 17th July.
And then we have a never previously released studio album from Art Blakey & The Jazz Messengers, Just Coolin'. Recorded on 8 March 1959, it finally shows up 17th July 2020!
Finally here's a snippet of what we've been listening to this week...
 Cheers,
Nerys & Warren